I have the BEST boyfriend – and I don't think I say it enough. Often times we get so caught up in the things that we don't like – about ourselves, about our situation, about other people – that we rarely pause to stop and talk about that the things that we do like, the things that we appreciate and that we often take for granted. I was thinking about this recently – about how even though I am working on myself and have a concrete plan to cultivate happiness and positivity, I sometimes succumb to the grumbling of a restless mind that is naturally drawn to the negative (it's not just me – science actually backs this theory). In an effort to counter negativity with an attitude of gratitude (cliche is the way, in this case!), I wanted to dedicate this post to putting down in writing all the reasons I'm grateful for my boyfriend – and why he's literally the BEST.
So without further ado, my boyfriend is a TOTAL keeper because….
(1) He does the dishes without complaining when it's midnight and he knows I'm too tired to move (or have already fallen asleep during a movie. Because let's be honest, I haven't seen a movie past 9pm in its entirety since 1999).
(2) He texts me to let me know he's already fed/walked Charlie when I'm out to dinner with a friend – even though I told him not to worry, I would be home early to take care of Charlie since he already dog-sat on Monday night while I was at my my photography class.
(3) He goes for an hour-long walk with me around Astoria – at 10:15 at night – to find SOME place that's open so we can grab dessert to go because I told him I was craving something sweet. *Side note: We ended up at the semi-sketch Baskin Robbins because that was the only thing open at that hour besides the place that almost poisoned us with spoiled cheesecake back in September, and that we somehow STILL decided to just 'pop in and browse' that night despite the fact that we vowed never to go there again. Yep, I'm rolling my eyes at us, too. In any event, were it not for the fact that everything else around us was closed, we would have never discovered the GLORIOUS flavor that is "Mom's Makin' Cookies" – Baskin Robbins' Mother's Day ode of brown sugar ice cream filled with chocolate chip cookies, chocolate chips, and cookie dough swirls. But I digress! This is NOT a food post! I promised myself I wouldn't make this a food post!
(4) He takes Charlie out early in the morning when it's still cold and/or rainy and I'm in PJs and not really feeling like putting on real pants/shoes/a jacket. You might be sensing a theme here with me and taking Charlie out…
(5) He will always take selfies with me and never complains, even if we have to take the same picture time and again to get the 'perfect shot.' (Of course, he's not exactly camera shy…I think he secretly likes it more than I do… ;)) In that same vein, he willingly acts as my test subject while I practice taking portraits for my photography class…even if that means posing over and over…and over and over and OVER again for the same shot while I tinker with the settings ("WAIT! I think I have to raise the ISO! *click* Nope…too much, let's lower it and try increasing the aperture! *click* Nah, let's go back to the original ISO/aperture *click* Maybe it's the shutter speed! *click click click*)
(6) He supports my hopes and dreams and never once has doubted me or my ability to get to where I want to be. If anything, he has been one of my biggest supporters on this whole blogging/writing/photography venture – if it weren't for him, I wouldn't be where I am today. While my brother will always get the 'credit' for pushing me to start this blog, my dad for instilling in me a love of reading, and my mom for always hinting that I'd make a great writer, my boyfriend was the one who encouraged me to redesign and elevate the whole blog last summer. He was the one who put me in contact with my editor at Hedonist/Shedonist, which I am so grateful for and which has opened me up to a whole host of opportunities. I wouldn't be able to take my photography class if he hadn't agreed to help take care of Charlie for the six weeks of class. We went 50/50 on our camera.
(7) Speaking of the camera (again)…he was kind of my glorified coat rack at the recent Fratellis concert I was reviewing/shooting for Hedonist/Shedonist. While I ran up to the photo pit to get ready for them to come out on stage, he held my purse, the camera bag, my concert t-shirt, my leather jacket, my umbrella, and my water bottle…all while saving my spot in a crowded warehouse venue.
(8) We got in a stupid fight that was ultimately my fault…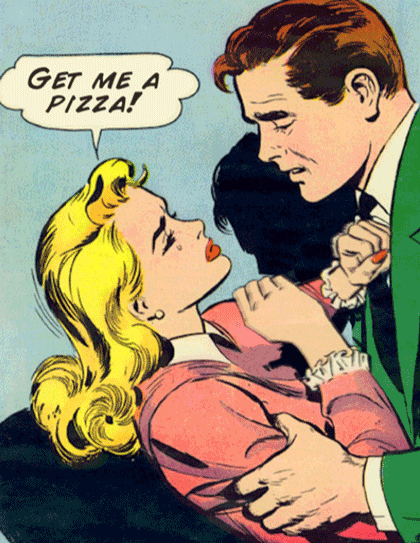 …and when I walked back into my apartment after cooling off for a minute, I found him on his way out emptying my trash bin.
(9) He doesn't mind that Charlie shares (read: takes over) the bed with us, because he loves Charlie just as much as I do.
(10) He will routinely sit on my bed and watch Dexter (and/or other trashy shows I like such as My 600 Pound Life or  Sister Wives) as we pass back and forth a pint of Talenti gelato – usually chocolate peanut butter cup because that's my favorite (or the rare unicorn of a flavor – peanut butter chocolate covered pretzel! – if we ever come across it! NO MORE FOOD TALK).
(11) He has introduced me to more music, more festivals, and more fun than anyone I know.
(12) He loves me for being myself and never makes me feel less-than. He knows my insecurities and while he acknowledges that I have them (as everyone does), he tells me I ultimately have nothing to worry about.
(13) He listens to my complaints without ever once telling me he's tired of hearing it, and feels just as strongly about the people I dislike – even though he's never met them.
I could obviously go on and on but lucky number 13 seems to be a good place to stop.
What are you grateful for these days? How does your partner make you feel loved? What's one thing YOU love about your significant other?  I'd love to hear in the comments!